C Diff Cleanup Services From MedTech Cleaners.
Diff cleanup can be difficult. Due the fact that it is resistant to many household cleaners and can survive alcohol-based hand rubs (hand sanitizer) C. Diff poses a unique cleanup challenge. C. diff can be a tremendous health hazard in nursing homes, clinics and hospitals. C Diff can also be passed to family members in residential settings. Hiring an experienced biohazard cleaning team to clean a healthcare facility or home can be essential to protecting families., patients and staff from reoccurring C. diff infections.
Clostridioides difficile or C. diff. is a potentially deadly bacterium that causes diarrhea and colitis. Most cases of C. diff occur during or after antibiotic treatment. It is estimated that that C. Diff causes over half a million infections each year in the united states alone. One in five patients who become infected with C. diff will get it again. Due to a recent increase in prevalence of C. difficile infections, professional C Diff cleanup services are essential.
Facts and Info to Know About C. diff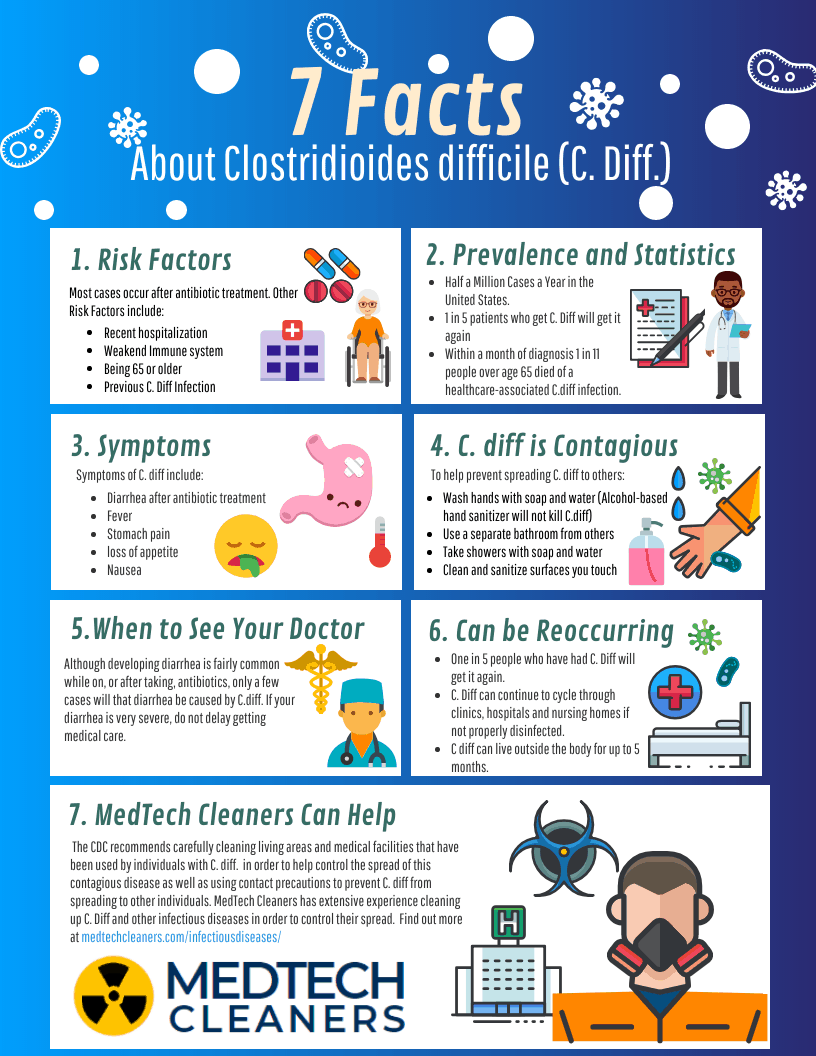 C. diff Cleanup in Hospitals and Care Facilities.
Clostridioides difficile infections are becoming increasingly prevalent in healthcare settings such as hospitals clinics and nursing homes. Properly cleaning and disinfecting facilities is essential to controlling C. diff outbreaks in these facilities. It is important that facilities are cleaned with proper EPA approved  sporicidal disinfectants in accordance with the product specifications. A study published in the Journal of Clinical Microbiology found that C. Diff spores can live for up to 5 months on surfaces in health care facilities. A recent study in the journal Antimicrobial Resistance & Infection Control determined that proper cleaning methods and cleaning agents needed to be employed to maximize effectiveness of C. Diff Cleanup.
Cleanup Services for C. Diff in Homes
Preventing C. diff from spreading within a home takes diligence and proper cleaning. According to the C. diff foundation cleaning the home environment along with hand washing and proper laundry practices constitute a strategy for controlling C diff in a home environment.  As always MedTech Cleaners is just a phone call away when you need help cleaning a home where a C. diff infection is present.
If you need C. diff Cleanup services or Other infectious disease cleanup services contact MedTech Cleaners 24 hours a day 7 days a week. (509) 939-5831.