About MedTech Cleaners
MedTech Cleaners is a family-owned company that cares about each person and situation that we help with. We are an emergency response company with service locations to cover all of Washington, all of Idaho, the Portland Oregon area, and parts of western Montana. We are ready to personally take your call when you are in need. Our professionally trained biohazard technicians provide specialized cleaning, sanitizing and odor removal. A hazmat-certified working supervisor is on each job to insure the job is done right.
We stand behind our services, and customer satisfaction is guaranteed.
MedTech has been serving the Pacific Northwest including Washington, northern Oregon, Idaho, and parts of Montana for over 25 years. We work to help families, property owners, and law enforcement when they need peace of mind.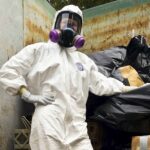 Our team is proud of the work they do and helping their community. The hardworking and steadfast team members at MedTech committed to bringing you the very best crime scene cleanup, death cleanup, hoarding cleanup, infectious disease cleanup and biohazard cleanup in the pacific northwest. Additionally, Our team members are resolute in their effort to help local law enforcement, mental health and medical services, through charity events and volunteer work.
Follow MedTech on Facebook as we keep you up to date on the latest news in Biohazard cleanup in the Pacific Northwest and Around the world.
As Always, Our dedicated team of professionals is always on call to handle all your biohazard cleanup needs. Call anytime – 1-877-652-9984 – MedTech Cleaners is here to help.